Lelièvre's BOREALIS COLLECTION is inspired by the wild landscapes of Scandinavia, its designs conjure views of snow-covered forests, frozen lakes and deep, ice-locked fjords. Consisting of one tapestry, beautiful Jacquard fabrics, comfortable wool and linen loops and one fine wool twill, this contemporary collection of enveloping, soft and refined high-end fabrics alternately features figurative motifs, geometric patterns and textures.
Ranging from vibrant ochres, beiges, and warmer cognac browns, to cool celadon and indigo hues, the palette of natural colors beautifully complements the entire collection.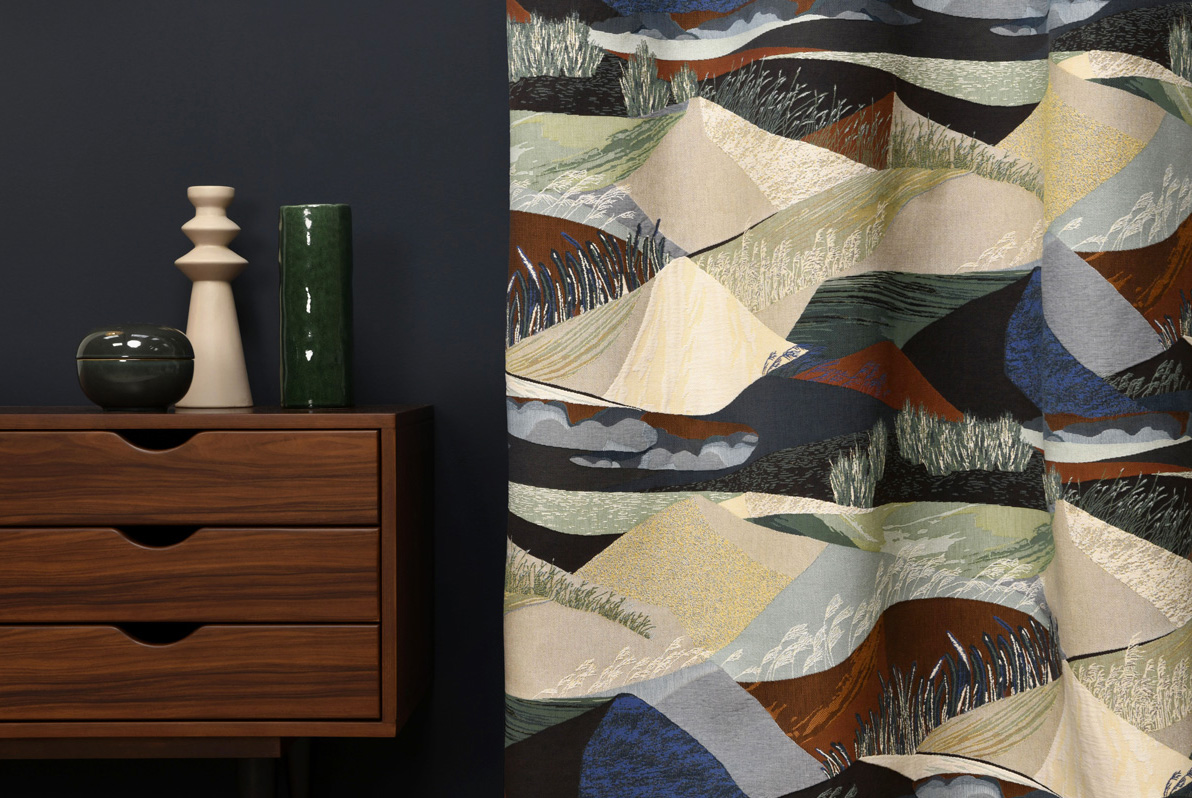 The masterpiece of the Borealis collection, a spectacular tapestry boasting a subtle blend of figurative and stylized contemporary motifs. It draws inspiration from typical Scandinavian scenery, depicted in a pictorial fashion. The outstanding weave work brings out every detail, emphasizing volume, contributing to a sense of refinement and movement. Available in two colorways: a stunning interplay of pales of natural light and bolder colors, in an evocation of the darker hours before nightfall.
Sofa Upholstery: ALTITUDE TAPESTRY. Drapery: HELSINKI.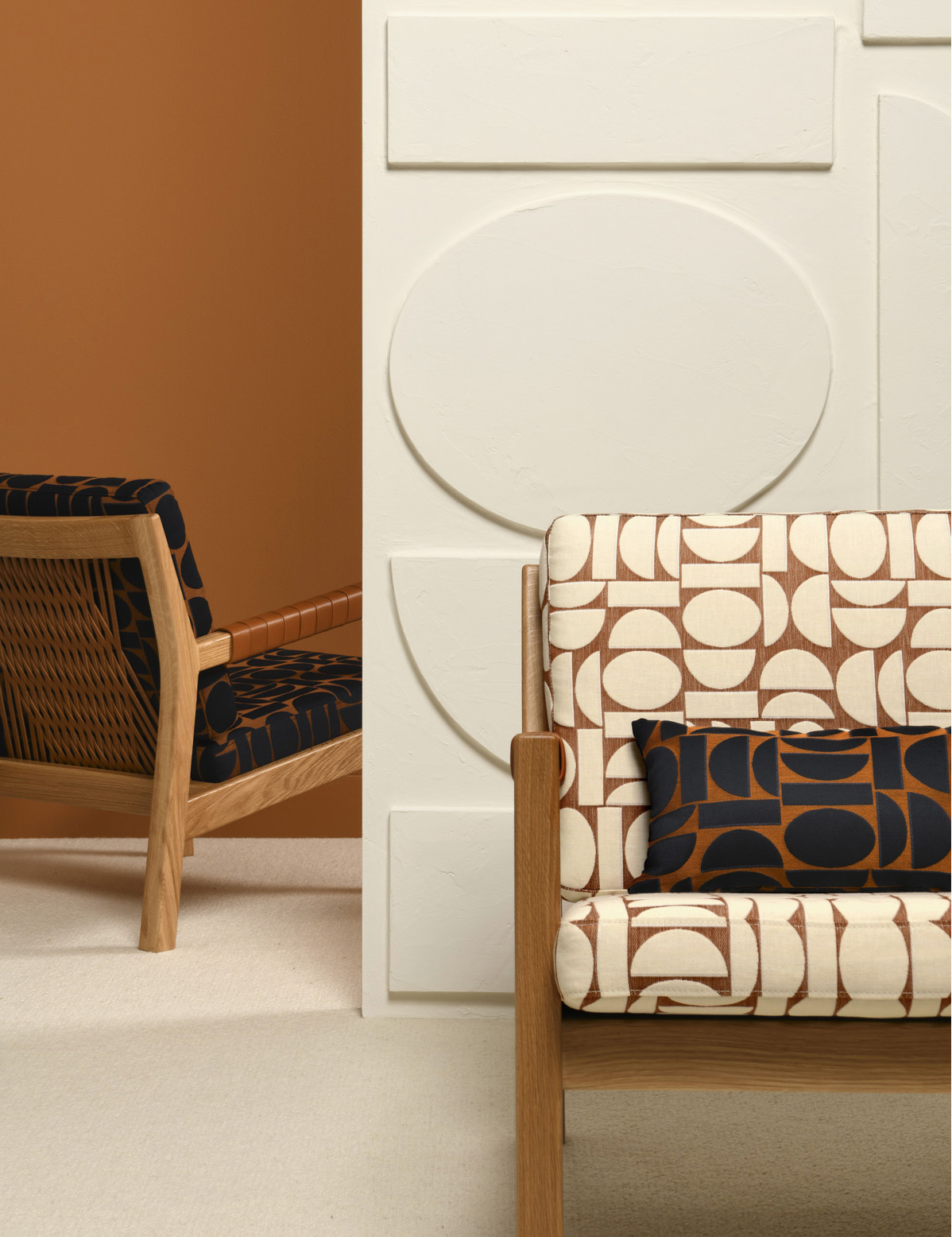 A graphic retro Scandinavian inspiration that features large geometrical embossed patterns of solid circles and rectangles. This stunning French-made Jacquard fabric is woven with two-colors that really bring out the forms.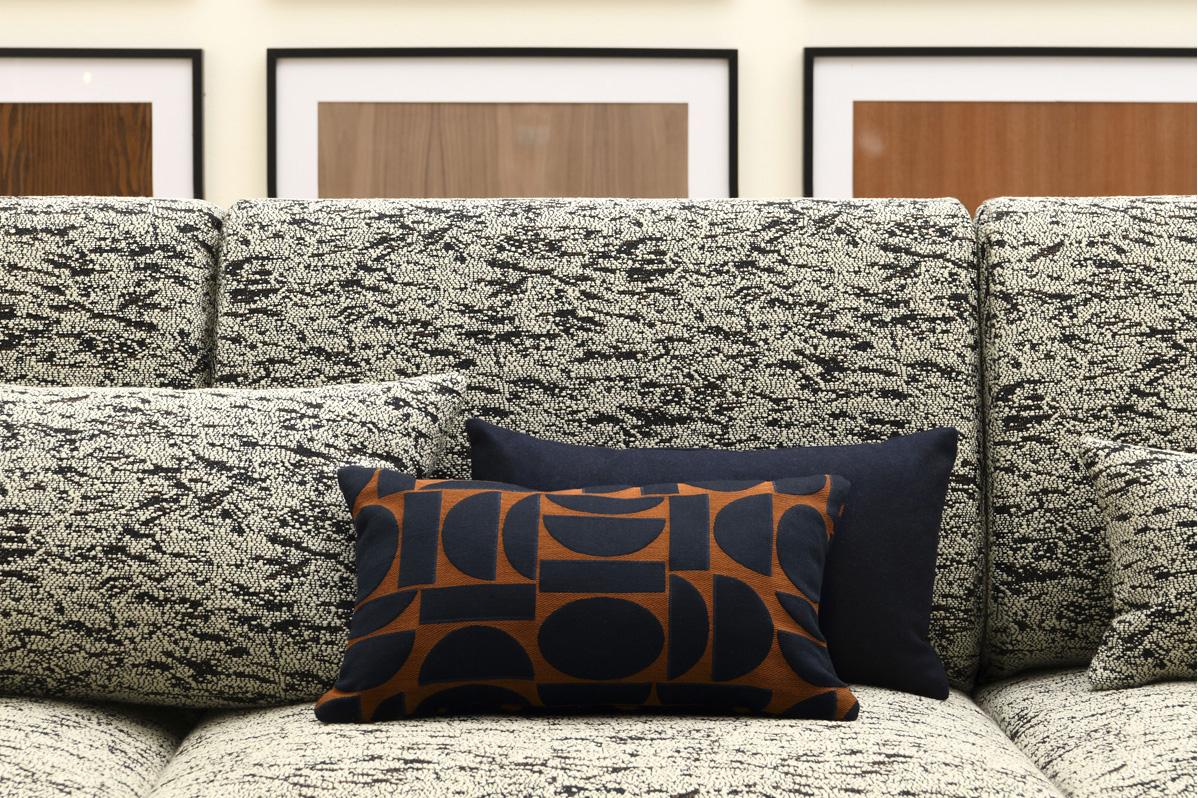 This stunning Jacquard fabric depicts a view of an abstract, hazy landscape of mountains and rocks, with a remote horizon. The shimmering quality of the background brings light and contrast, creating a sense of rythm and volume. This tonal texture of natural shades subtly plays off materials and weaving irregularities. Its wool-like quality makes for a fabric that is extremely soft and drapes perfectly. It is ideally suited for a seating upholstery, curtains and wallcoverings.
Sofa Upholstery and Pillows: BALTIC. Accent Pillows: FJORD & TAIGA.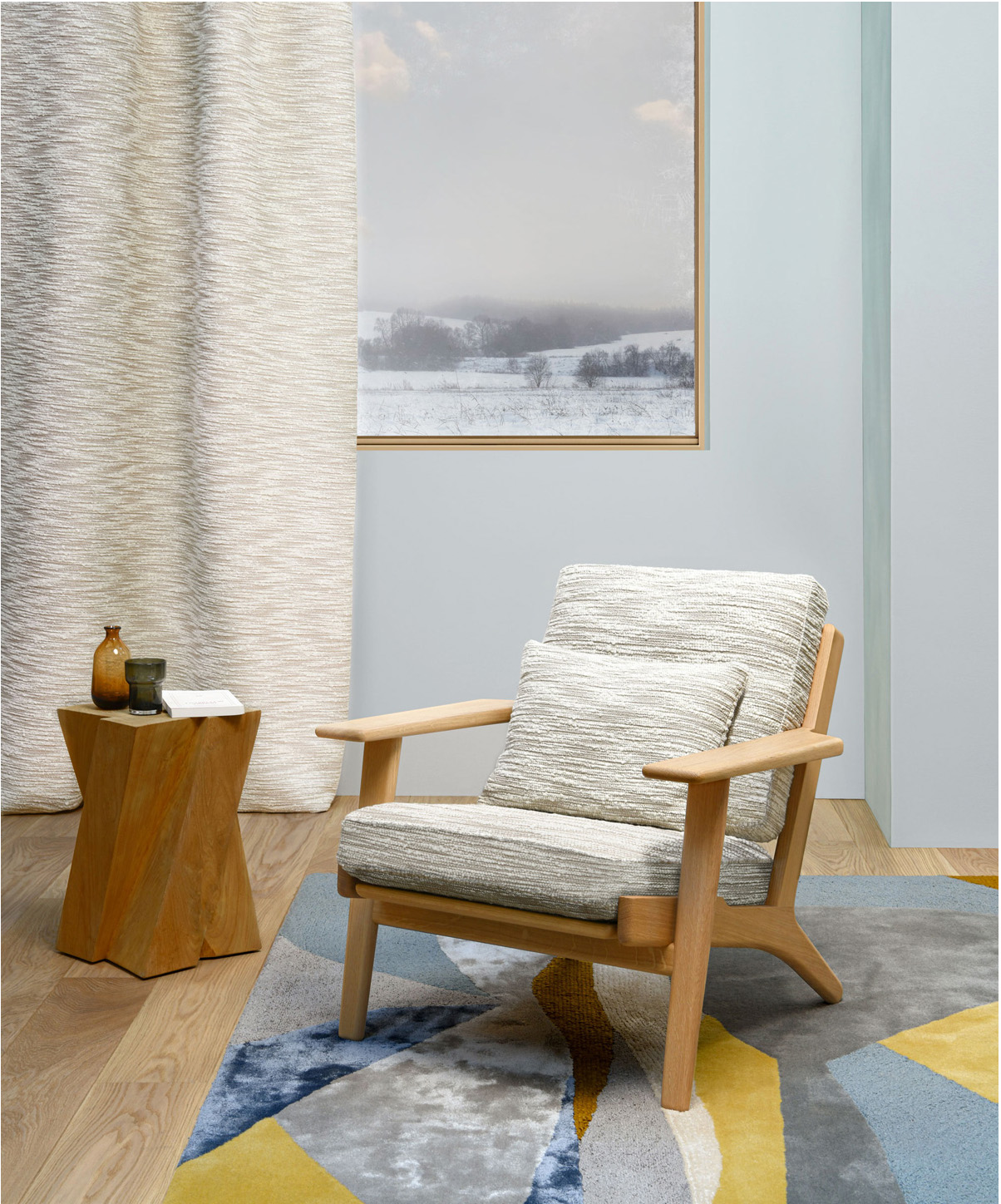 A natural shade for a chic and graphic wool and linen bouclé, that perfectly coordinates with the rest of the collection. The thin, rhythmic stripes bring beautiful depth for a warm and enveloping interior. The fabric is suitable for seating upholstery, curtains and wallcoverings.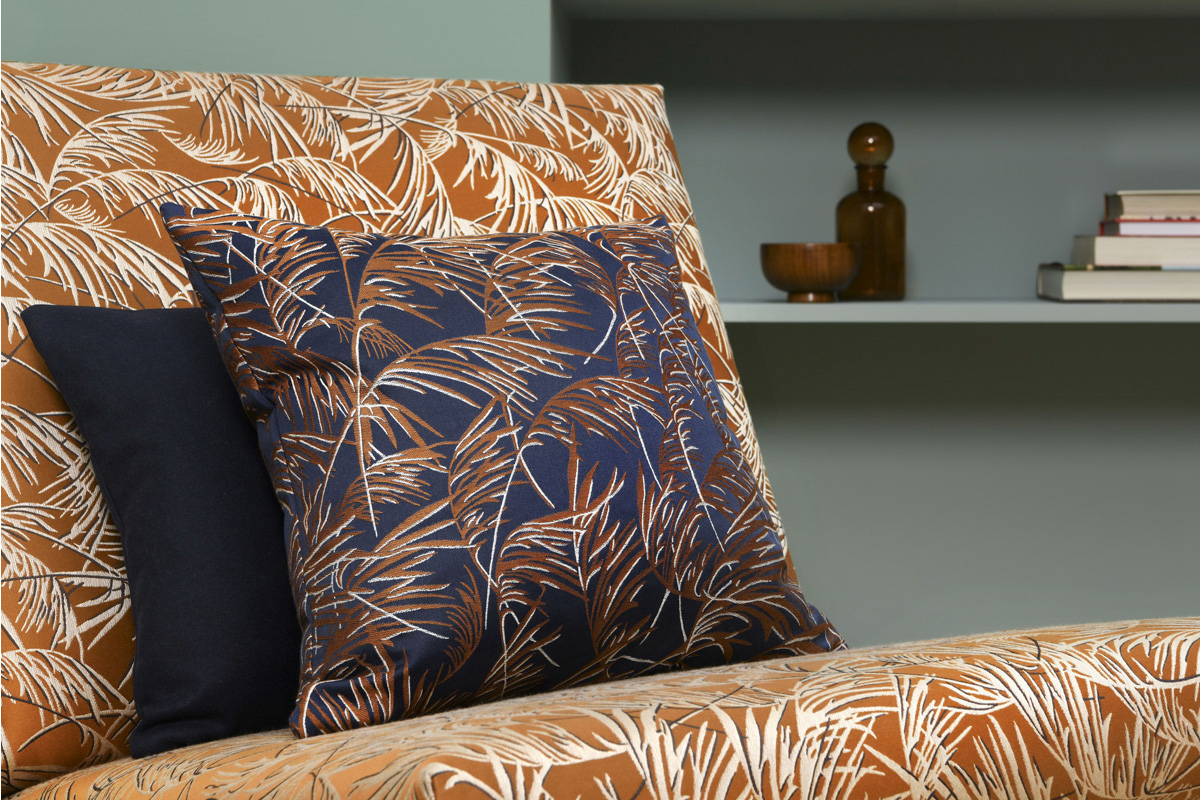 Featuring a simple and graphic pattern of frozen leaves with three contrasting shades. Especially soft and radiant, it is perfect for seating upholstery, curtains and wallcoverings.
Chair Upholstery and Pillow: GRAMINAE. Pillow: TAIGA.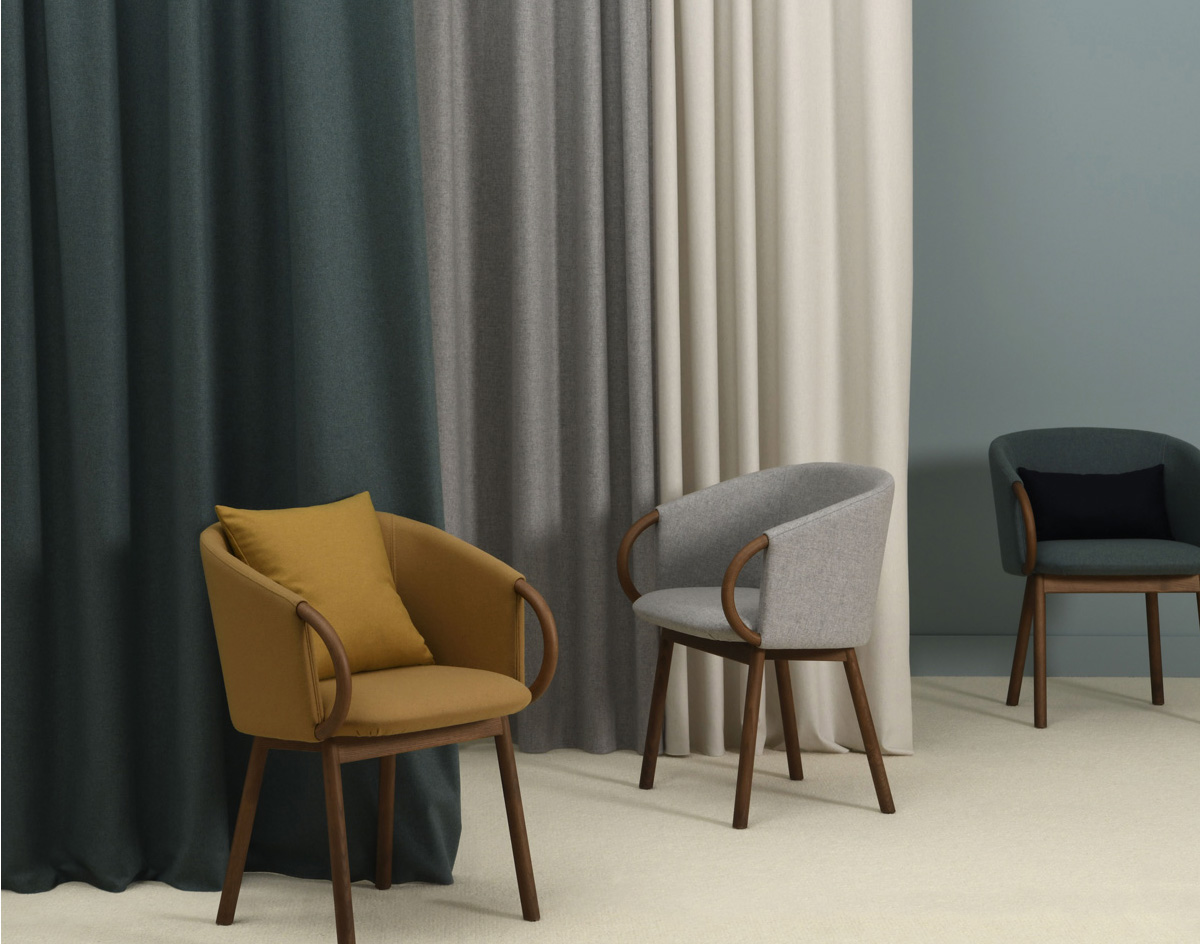 A chic and timeless essential, it comes in a broad palette of 23 colorways. From old grays and earth tones to indigo blues and a deep aubergine shade. The whole range is suitable for seating upholstery and curtains and is easily paired with all other fabrics from the Borealis collection.