These fabrics are as durable as the landscapes that inspired them.
MOORPARK, Calif. (August 1, 2023) — Sunlight across the canyons. Mountain vistas from a bird's eye view. Rich layers of Canyonlands.
The new Exclusive Pendleton Collection introduction continues the story of those who walked the land before us, a sunset painting a colorful palette, and the mountain range creating texture underhand.
This third collection brings together Pendleton Woolen Mills' authentic and distinct aesthetic with the enduring performance qualities of Sunbrella® fabrics, and is now available to the trade through Pindler.
These two American heritage brands collaborated with Pindler to bring to life patterns inspired by Pendleton's iconic, historic motifs with the enduring performance qualities of Sunbrella's® easy care, fade-proof, and bleach-cleanable fabrics.
The Exclusive Pendleton Collection, the story of whose authentic and distinct aesthetic unfolds across the landscapes of American history, has been woven in durable, 100% all-weather Sunbrella® solution-dyed acrylic yarns.
The Exclusive Pendleton Collection is a great collection of indoor/outdoor useable fabrics for the home. Functional, trendsetting Sunbrella® is the perfect fabric for casual indoor and outdoor living. Developed from several decades' experience, Sunbrella® performance fabric is as durable as it is beautiful. Breathable Sunbrella® resists moisture, fading and mildew. As a result, Sunbrella® is among the most dependable brands of beautiful indoor/outdoor fabric.
Pendleton Woolen Mill's designs incorporate traditional tribal and Native American design elements curated from the shores of Maui, the rocky summits of Arizona, the rich layers of Utah's Canyonlands and the rugged terrain of Oaxaca.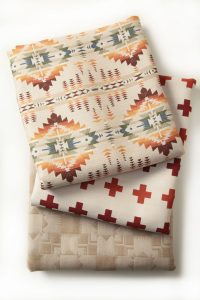 The Exclusive Pendleton Collection is available online, as well as at Pindler's 16 corporate showrooms and nine agent showrooms across the U.S., and two agent showrooms in Canada. For more information, visit the DC Pindler showroom.