Nostalgic and masculine designs bring warmth to any interior
MOORPARK, Calif. (Sept. 20, 2022) — When the first leaf turns red and there's a slight nip in the air, there's only one thing to do. Put away the sunscreen and bring out the cozy blankets for fall.
Pindler has curated two looks — Menswear and Lodge — in honor of autumn. These meticulously curated assortments pay homage to the season of cable knit sweaters and pumpkin spice with warm, cozy and substantial textiles to make you feel bundled up as the weather turns cold.
The Menswear look features timeless designs like houndstooth, tweed, herringbone, paisley and woolen check. Unassuming yet enduring, these classic, masculine fabrics lend themselves to tailored lines and add an element of durability and nostalgia to interior designs.
Practical and bold, this look combines earthy tones with elevated textures to invoke the best of what it means to be a modern gentleman.
These warm and comforting selections are available in classic color palettes like charcoal and stone, lakeland and golden and camel and stone.
These Lodge looks conjure memories of forest cabins and mountain chalets. Come in from the cold with these fabrics that are essential to any autumn retreat.
Bold colors mimic the red and orange sunset of a fall sky while geometric patterns pay homage to exquisite native textiles. Folksy prints create a warm and vibrant effect that echoes the iconic, enduring landscapes of the American West. Black and neutral selections mimic the pebbles under a crisp, clear mountain stream while the colors of saddle and denim evoke memories of morning trail rides followed by afternoons around a stone hearth with hot apple cider.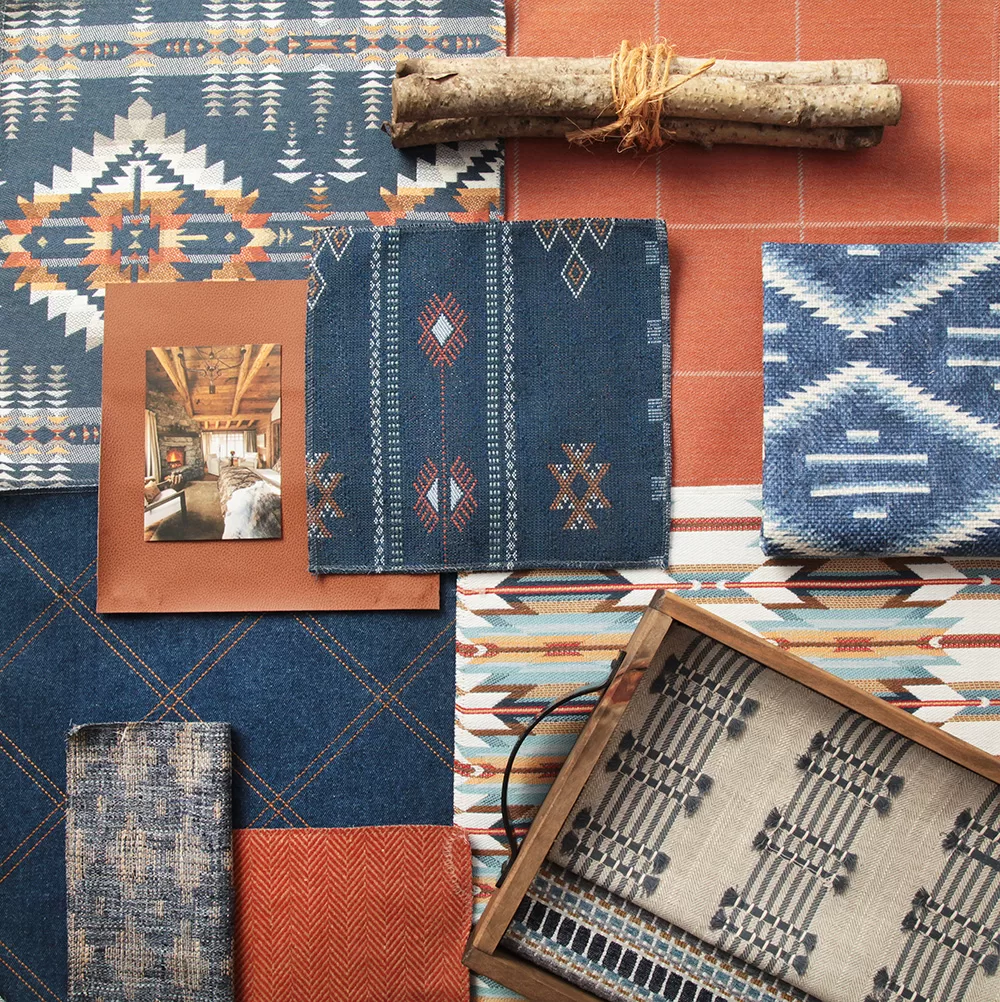 These nature-inspired designs are available in palettes ranging from clay and mink to stone and pebble. They also come in woodland and saddle or autumn and denim.
Fall is the season to come inside. Make the most of the autumn chill with the Lodge and Menswear looks.
These curated Menswear and Lodge looks are available online, as well as at Pindler's 16 corporate showrooms and nine agent showrooms across the U.S., and two agent showrooms in Canada. For more information, visit the Pindler showroom.